SPS PoolCare Named #1 Pool Service Company in the US, by Leading Industry publication, Pool and Spa News.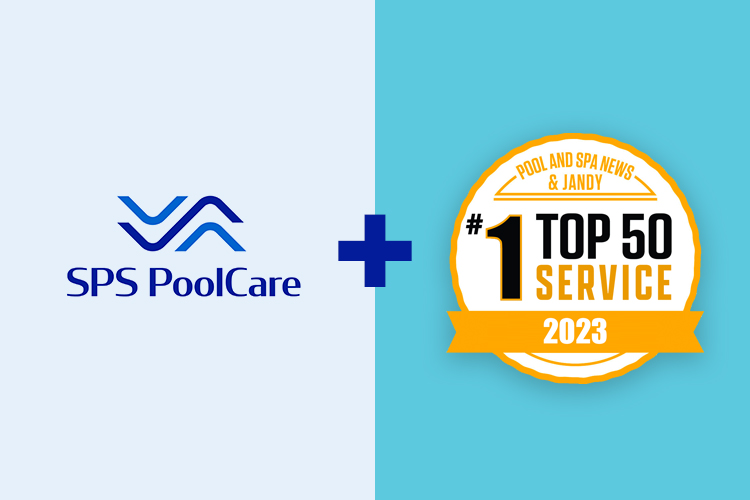 Austin, Texas – SPS PoolCare, the fastest-growing swimming-pool service company in the United States, has today claimed #1 position in the nation's coveted 2023 PSN Top 50 Service Firms – as judged by the industry's leading publication, Pool and Spa News, in conjunction with Jandy, one of the world's foremost swimming-pool equipment manufacturers.
"We're extremely proud and honored to be named the #1 pool service company in the country by Pool and Spa News and Jandy," said Fraser Ramseyer, Founder and Chairman, SPS PoolCare and CEO, Storr Group. "What the team has accomplished since our inception in 2021 – in terms of standardizing and scaling our organization – brings unprecedented sophistication to the pool industry; and we're just getting started."
Lance Martin, President and COO, SPS PoolCare added, "Our mission at SPS PoolCare is to make owning a pool a joy for our customers, to create rewarding, life-long careers for our employees and, ultimately, to elevate the pool industry as a whole. This award is a testament to the exceptional team we have here at SPS PoolCare."
Along with being named #1 pool service company in Pool and Spa News annual ranking of top service companies, SPS PoolCare has recently recorded several additional milestones, including:
Integration of close to 60 pool company acquisitions in two years – across four states – partnering with premier local pool companies. To date, SPS PoolCare employs over 600 professionals, with a fleet of 500 service vehicles, and is on pace to perform one million weekly pool services per year.

An industry-first rollout of technology infrastructure that effectively streamlines operations, improves customer service, and unlocks route optimization. This includes the deployment of a sophisticated field operating software – a robust mobile, cloud-based platform.

Appointment of key senior hires, including home-services industry heavyweight, Lance Martin, as President and Chief Operating Officer. Martin joined SPS PoolCare from Terminix, a $2.1 billion revenue public company. At Terminix, Martin led domestic operations, driving a team of more than 8,500 staff across the US, and reporting directly to the CEO. Over the course of a decorated 30-year career with Terminix, Martin held numerous leadership positions of increasing responsibility.
About SPS PoolCare
As the #1 swimming-pool service company in the US, SPS PoolCare is on pace to perform one million weekly pool services per year, and employs more than 600 staff across four states. Backed by Storr Group, the company is focused on growing its family of brands across the Sun Belt, as it continues to make owning a pool a joy. SPS PoolCare is committed to creating a world-class service experience for its customers and being an employer-of-choice for its team members.
Read more at spspoolcare.com
About Storr Group
Storr Group is an operational equity specialist – headquartered in Austin, Texas. We build and scale best-in-class platforms, elevating industries for consumers, employees, and our stakeholders. Storr Group operates within fragmented, high-margin sectors – creating value through aggregation, enhancement, and operational excellence. Storr Group also seeks to actively partner with high-quality management teams, unlock operational improvements, and provide capital to support growth initiatives.

Read more at storrgroup.com
Contacts
SPS PoolCare
James Guinnee
james@spspoolcare.com
(914) 483-8477